Services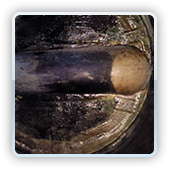 Our work begins with a site visit and examination of your fibreglass tank, at an agreed daily rate. In many cases we are able to carry out repairs straight away, if authorised to do so. This saves the client the cost of a second visit by us and other contractors needed for the job.
Underground tanks are enclosed spaces, and inherently dangerous. Law and sound practice requires a qualified two-person team of operatives. Each must hold the relevant certificates. We have appropriate gas monitoring devices and safety equipment which we deploy at all times before and during entry. Neil Davies Environmental Services are professionals – these are not jobs for amateurs!
While tanks are normally 'out of sight, out of mind' they are under pressure from external stresses at certain times. When a tank is emptied, the liquid has gone and there is pressure on all sides. A blister can appear, and the groundwater all around can cause the vessel to implode.
Even under these drastic circumstances, we can still repair around 90% of damaged fibreglass tanks. And our unrivalled knowledge means that, the next time it's serviced, your tank will survive. Even the smallest repair can be crucial. Many modern interceptors come with a filter system. From time to time these clog up, and can cause internal damage. We can repair the filter and housing, or fit replacements as necessary.
We're not trying to sell expensive service contracts. Because our business is rather unique, we can solve your problems on site. As long as you follow our advice after our visit, you probably won't need us again. We'd be happy to oblige, but we're confident that our one repair will do the job for many years.