A little information about Neil Davies Environmental Services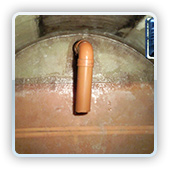 After an oil leakage, the pollutants flow into a drain and then into an oil interceptor. Oil floats on water, allowing the fibreglass interceptor tank to prevent any pollution. The tank retains the pollution, and allows surface water to enter the main drainage system.
However these tanks, from units on industrial estates or in car parks, can develop problems. They are prone to silting up, and 'emptying out' can cause even more problems.
Tanker drivers, without realising it, may cause too much water pressure when sucking out one of the chambers inside the interceptor. This can cause dividing walls, or baffles, inside the tank to collapse.
The result is one cleaned fibreglass tank, collapsed dividing walls, but now not retaining the oil which can end up in a local brook!
And this is where Neil Davies Environmental Services come in. While we have the greatest respect for tanker drivers, we bring along years of experience and know-how. It means that we will spot the problem with your fibreglass tank straight away. We will spot internal damage, preventing potentially serious incidents.
We offer the same internal repair service for all types of fibreglass units from cesspools to rain harvesting tanks. Repairs, professionally carried out, can avoid expensive replacement.
We intercept at exactly the right time, keeping your equipment running perfectly and possibly saving you thousands of pounds.