Welcome to our website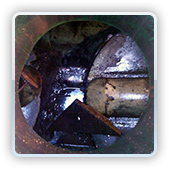 Word of mouth is the key to success for Neil Davies Environmental Services Ltd. Our business is growing at a difficult time, and much of that expansion is because of personal recommendation.
The company grew out of the Neil Davies Partnership, which had also gained its reputation through recommendations. We repair all types of fibreglass tanks for companies, individuals and the unit manufacturers themselves.
Our main business is the cost-effective inspection and repair of oil interceptor tanks, cutting pollution and tracing problems before they develop into incidents. We also carry out work on cesspools, septic tanks, treatment tanks, pump units, rain harvesting tanks and many other fibreglass units.
Our high quality inspections can save companies thousands of pounds. We have developed a reputation nationally, carrying out subcontracting work on National Grid sites. We also have contracts overseas, but projects here in the UK are just as important to us.
Please have a look around our site to find out why it's better to act now and pay a much smaller bill.